The Palmerston North Community Patrol's latest tool in helping to keep Palmerston North a safe community was launched in the Square last week (20 November) – a new 2019 Toyota RAV 4.
Suzy Hills says the hybrid vehicle will cut down the voluntary organisation's expenses and reduce its environmental impact, while providing patrollers with a safe and comfortable task-suited vehicle. It replaces the organisation's aging Honda in its fleet of two vehicles.
City Mayor Grant Smith, Councillor Pat Handcock, and Police Inspector Sarah Stewart attended the launch. Mayor Smith commended the Patrol for its 20 years' service to the people of Palmerston North. "The Palmerston North Community Patrol has worked diligently to help reduce crime in our city by providing Police with extra sets of eyes and ears."
"There's no way of telling the criminal acts that have been thwarted or aborted because a would-be perpetrator saw the Patrol," the Mayor said. "It's also worth remarking on the level of cohesion, coordination and teamwork between Police and Community Patrol members that has contributed to a successful partnership over the past two decades."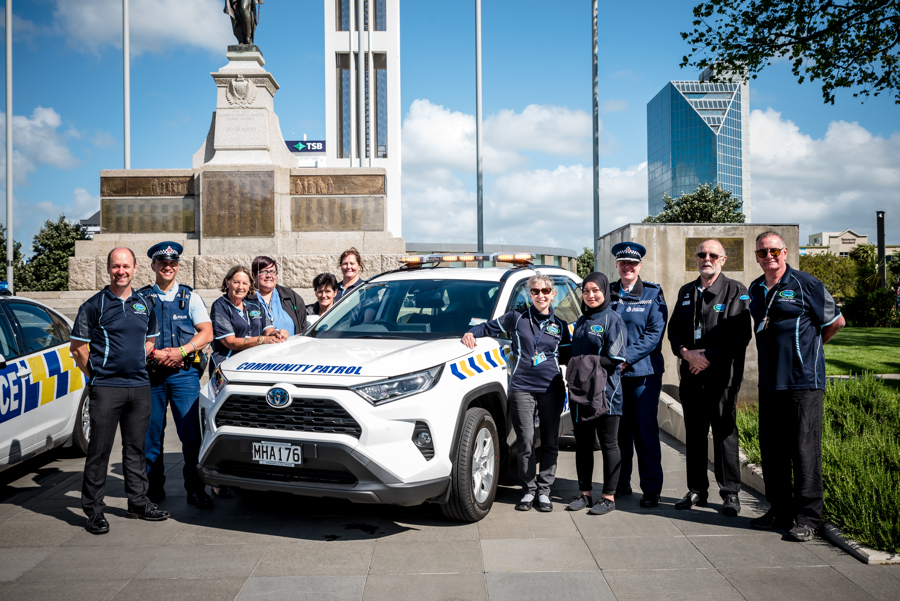 The new vehicle has been funded through grants from the Eastern and Central Community Trust, the Lion Foundation and Pub Charity, as well as funds raised by the organisation. Further donations have helped buy and install the light bars and dash cameras (Pub Charity; Ashhurst Pohangina Lions Club, Palmerston North Heartland Lions Club, and Palmerston North Fitzherbert Lions Club). Other local businesses and organisations have helped through discounts and vehicle setup (EmergeNZ, Autocraft Electrical and Diesel, Manawatu Toyota and Capture signs).  AMI has also covered all insurance costs – "a great value to our Patrol with our vehicles," Hills says. 

Community Patrol volunteers work in four-hour shifts. They are trained in handling a variety of situations and have Police communication radios. The organisation is in regular contact with Police about the assistance offered. 
The Patrol is "a capable guardian to offer confidence to the public that help is available in times of need," Hills says. "Police can and have called on the Community Patrol when they have need of assistance in special circumstances and with crime prevention."  
Palmerston North Community Patrol is keen to add to its volunteer patroller numbers. Those interested in joining can find out more at CPNZ.org.nz or email contact@pncp.org.nz. 
Originally posted at:
https://www.pncc.govt.nz/news-events/news/community-patrol-has-hybrid-addition/
Photos by Tara Jolliffe Photography
---